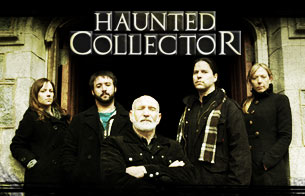 I saw the buzz about Haunted Collector on other blogs, but I didn't pay much attention because I didn't plan to watch. Not until I saw Facebook posts by Brooke Haramija, Chris Mancuso, and Laura Pennance. Someone they know very well was going to be on the show: Brian J. Cano. (He's an FB friend of mine too, but they've actually worked with Brian in person. I came to be FB friends with him after interviewing Brooke about another show they're both affiliated with: SCARED!)
Anyway. That was enough to pique my interest. It was worth tuning in just to see him.
But now I'm left with questions galore.
In "A Focused Haunting," New York Shadow Chasers wrote: "There are countless reports of homes and buildings with no reports of hauntings spontaneously having ghostly activity after a 'trigger object' is brought onto the premises. The actual question is whether or not it is triggering a haunting or simply bringing one with it." So how exactly do you determine if the place is haunted but only needed the right catalyst, or trigger object, or if the object itself is actually haunted and causing the activity?
Can you always stop a haunting by taking out a haunted object? (For those instances where it's identified that an object is likely the root of the paranormal activity.) Can whatever's haunting the object unattach itself and remain on the property? (My only concern here was Haunted Collector seemed to suggest spirits have a propensity to attach themselves to items and you can "cure" a haunting by removing suspected objects. That's a message I fear the show may send and not mean to.)
How is it spirits haunt certain objects? Do they mean to, or is it something about the object itself that binds with a person's love/passion/hate that ends up holding on to them? (And perhaps they don't mean their spirits to be held on to.)
Are the spirits of the haunted objects disoriented when they get relocated? (Nuts, I know. I'm cursed with being too empathetic. I'm always thinking of feelings, even the feelings of seemingly inanimate objects.)
Barry at Gnostalgia raised a good question in his write up of Haunted Collector: Did the cold spot vanish after they removed the gun from under the house?
Speaking of that gun, did they ever notify anybody (meaning any authorities) of their find? What if it really had been used in a crime? Sure, it was all gunked up, and between that and them manhandling it, perhaps it wouldn't yield any useful forensics, but…maybe it might've? (I have a personal reason for asking this one. Which I'll explain below.)
Yet another question posed in the comments on the Gnostalgia write-up about the gun was: Could the gun have been planted? (Sorry John and Brian. I'm trying to raise this as delicately as possible. You both seem like good people, but the show is on Syfy and the tricks Ghost Huntershas gotten busted pulling have made everyone wary of the lengths Syfy will go to for entertainment sake.)
A clown cookie jar? Really? Did anybody ever dare steal cookies out of it? (I know I sure wouldn't! Which actually might be a good reason to buy some scary clown kitchen wares. I need to lose weight. Creepy clown stuff would keep me out of the kitchen!)
On HJ's Facebook page, Traci wrote: "…what does that man do with the haunted objects and if he brings them home is he haunted???" Great questions. I wondered the same thing. What's it like in his house? Must be interesting.
But I also wondered about having all those allegedly haunted objects in one place, do they all get along? Can haunted objects clash? (Yep, the empath in me is showing again.) Seriously, though. Say you put a haunted brooch on a haunted shawl or scarf, or a haunted book on a haunted table, and the spirits hate each other. Does that magnify activity?
What's John's exit strategy with the items? I know he has his paranormal museum, but when he dies what happens to the items? Does he plan to sell them, or bury them as he's done with some other items that were too potent to be cleansed?  (Refer to the FAQs on his museum's website for more about that.)
BOTHERED BY THE HANDLING OF THE GUN
As I've written about before, my aunt was murdered. Shot in the head.
When they found the gun during the Bayou Ghost investigation, my stomach roiled. Even before their research led them to the story about a robbery that had resulted in a murder where no weapon was recovered. all I could think was: "When a gun's in  a box buried beneath a house like that, that ain't good. Somebody was up to some kind of mischief."
Then they told about the robbery homicide and I immediately thought of the family's loved ones, if they were still alive. If that gun had been used for sinister purposes, whether in that robbery homicide or something else, taking it in may have yielded evidence to bring someone somewhere peace because a piece of a puzzle was finally found.
Maybe they did do that and just didn't show it. Maybe they didn't even think of it. I did, because I don't have answers about my aunt and I would very much like to.