Last week when I shared the Bigfoot, Aliens & Other Beasties link on HJ's Facebook page, I mentioned it'd be the first of about three Friday Fun posts featuring some of Design Toscano's coolest sculptures. (Which may now grow into four posts. I keep finding other sculpture genres to feature.)
Anyway, for today's Design Toscano Friday Fun installment I thought I'd do something in honor of Memorial Day Weekend. You know, since it's the traditional kick off to summer and all. Grills, cookouts, and the opening of swimming pools. Rock on!
But beware before you dive in those pools. You might want to double check to make sure none of these freaky pool statues pictured below are lurking about.
Oh man, I (a) wish I had a backyard pool again like we did at our Phoenix house, and (b) had money enough to buy any of these statues. I'd for sure have cameras rolling the first time people came to visit. I'd love to capture their reactions upon seeing some of these. Especially if they were positioned like they are in some of the ad copy shots. Hysterical!
10. Castle by the Sea Sculpture
Okay, so this one isn't freaky at all, but it's cool so it falls into the freaking awesome category. And since I suck at building sand castles, I'd dig having this one to showcase.

9. The Grand-Scale Wildlife Animal Collection: The Walking Crocodile Statue
Forget the people's reactions, I know some dogs in our neighborhood who would bark up a storm at this intruder the first time they spotted it on our lawn.
I'd put him smack dab in the middle of the path to my pool too. Test people's comfort zones by forcing them to walk past the croc.
7. The Gargantuan Garden Gator Statue
Love it! The hat and binoculars are not included, but I love the idea. Maybe I'd put gardening gloves and a gardening hat in its mouth and put it by my veggie garden. Or better yet, have rabbit parts dangling out of the mouth to serve as a warning to any bunnies who had any bright ideas about feasting on my plants! 
6. Snapping Swamp Gator Statue
Yep, he needs to be on the edge of the pool just like that. My pool's version of a cabana boy!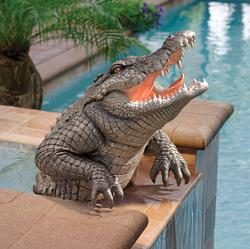 5. Gator on the Prowl: Spitting Bronze Alligator Garden Statue
This is what I picture when I see this statue: someone swimming laps and, when they're swimming back and not paying attention, moving this to the edge of the pool to greet them when they take a break. Guess I better be ready to do a rescue though. Wouldn't want anyone to drown!
4. Crocodile Skull Sculptural Artifact
This is another one I think is freaking awesome. Dem bones, dem bones, dem crocodilian bones!
3. Giant Burmese Python Snake Statue
My husband probably wouldn't appreciate me putting this in the grass and having to mow around it. It would make him super uncomfortable because he hates snakes. (But that just makes me want to put it out there without telling him its there and see what happens when he does go to mow!)

2. The Great White Shark Sculpture
He looks sort of silly coming out of the grass. I'd put him more like that snapping swamp gator above and perch him on the edge of my pool. Or maybe stick him through a raft and let him float in the pool.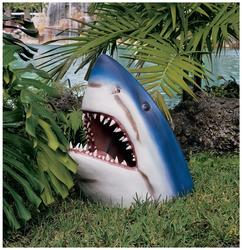 1. Revenge of the Great White Shark Sculpture
Hands down this is my absolute favorite of them all. It's a true "trophy" (as Design Toscano's website copy describes it). It's over eight feet long! I'd so display it just as they've done. Coming out of the pool, but maybe with some shredded shorts hanging from its mouth instead.