Valentine's Day haunted houses. Luckily they're back again this year. And luckily so am I. This year I'm making sure to write about them!
You see, I saw many Valentine's Day haunted houses advertised last year, but I never got around to writing about them. This year when the local news here in Nashville started reporting about them, and I started seeing Tweets and posts about them on Twitter and Facebook, I resolved to share all the ones I came across.
If you know of a haunted Valentine's Day haunted house that's not on this list, be sure to leave a comment about it. Thanks!
ALABAMA
Warehouse 31 Bloody Valentine – February 12-14, 2016. Theme: Love Your to Death. Location: Birmingham, AL
Arx Mortis at Ghost Hill – February 12-14, 2016. Theme: My Bloody Valentine Special Event. Location: Killen, AL (Appropriate name for a haunted house location, don't you think? Killen?)
ARKANSAS
The Expelled – February 13, 2016. Theme: My Bloody Valentine. Location: Huntsville, AR
CALIFORNIA
All Saints Lunatic Asylum – February 12-13, 2016. Theme: Cupid's Revenge. Location: Apple Valley, CA
Talladega Frights – February 12-13, 2016. Theme: You're the One That I Want. Location: Bakersfield, CA
COLORADO
13th Floor Haunted House – Denver – February 12-13, 2016. Theme: Valentine X. Location: Denver, CO (Note: Valentine X is also happening at the 13th Floor Haunted Houses in Chicago and San Antonio.)
GEORGIA
Folklore Haunted House – February 12-13, 2016. Theme: My Bloody Valentine. Location: Acworth, GA (Another good town name for a haunted house. Rhymes with "hack." At least the way I pronounce it in my head it does…)
ILLINOIS
Basement of the Dead – February 13-14, 2016. Theme: Valentine's Day in Wonderland. Location: Aurora, IL
13th Floor Haunted House – Chicago – February 12-13, 2016. Theme: Valentine X. Location: Chicago, IL (Note: Valentine X is also happening at the 13th Floor Haunted Houses in Denver and San Antonio.)
The Massacre Haunted House – February 13, 2016. Theme: Valentine's Massacre. Location: Montgomery, IL
Nightmare on Fairgrounds Road – February 5-6 & 12-13, 2016. Theme: Mend Your Broken Heart. Location: Princeton, IL
INDIANA
Fright Manor – February 19-20, 2016. Theme: Be Mine Valentine. Location: Indianapolis, IN (Note: This was originally scheduled for February 12-13th, but due to weather has been re-scheduled to the following weekend.)
Shattered Nightmares Haunted House – February 12-13, 2016. Theme: My Bloody Nightmare. Location: Terre Haute, IN
KENTUCKY
The Haunted Hospital – February 12-13, 2016. Theme: A Bloody Valentine. Location: Scottsville, KY
NEW JERSEY
Brighton Asylum – February 12-13, 2016. Theme: Dark Valentine. Location: Passaic, NJ
The Haunted Scarehouse – February 12-13, 2016. Theme: n/a But they boast "two floors of fear" so who needs a tagline gimmick when you've got that? Location: Wharton, NJ
NEW YORK
Blood Manor – February 12-14, 2016. Theme: Bloody Valentine's Weekend. Location: New York, NY
District of the Dead Haunted House – February 12-14, 2016. Theme: Eat Your Heart Out Valentine's Haunt. Location: West Seneca, NY
Kingsbury Cemetery Haunted House – February 12-13, 2016. Theme: Heart of Darkness. Location: Painted Post, NY
OKLAHOMA
Guthrie Haunts – February 12-13, 2016. Theme: My Vexed Valentine. Location: Guthrie, OK
The Sanctuary OKC – February 12-13, 2016. Theme: Tunnel of Love. Location: Oklahoma City, OK
OREGON
The Fear PDX Haunted House – February 12-13, 2016. Theme: 'Til Death Do Us Part. Location: Portland, OR
PENNSYLVANIA
Castle Blood – February 12-13, 2016. Theme: Valentine's Show. Location: Monessen, PA
TENNESSEE
Frightmare Manor – February 13, 2016. Theme: Bloody Valentine's Eve. Location: Talbott, TN
Haunted Hell – February 12-13, 2016. Theme: Valentine's in Hell: The Massacre. Location: Antioch, TN
Nashville Nightmare Haunted House – February 12-13, 2016. Theme: Mu Bloody Nightmare – Movie Maniacs. Location: Madison, TN
Slaughter House – February 13, 2016. Theme: Bloody Valentine. Location:Hermitage, TN
TEXAS
Creepy Hollow Haunted House – February 12-13, 2016. Theme: Bloody Valentine. Location: Rosharon, TX
Cutting Edge Haunted House – February 12-14, 2016. Theme: Valentine's Weekend Event. Location: Fort Worth, TX
Dark Hour Haunted House – February 12-14, 2016. Theme: Love Is Blind. Location: Plano, TX
Hatch and Kraven's Haunted House – February 12-13, 2016. Theme: Queen of Hearts. Location: Sherman, TX
Houston Terror Dome Haunted House – February 12-14, 2016. Theme: Zombie Wedding. Location: Channelview, TX
Moxley Manor Haunted House – February 12-13, 2016. Theme: Bloody Valentine's Day Massacre. Location: Bedford, TX (Note: This was featured in the movie The Houses That October Built.)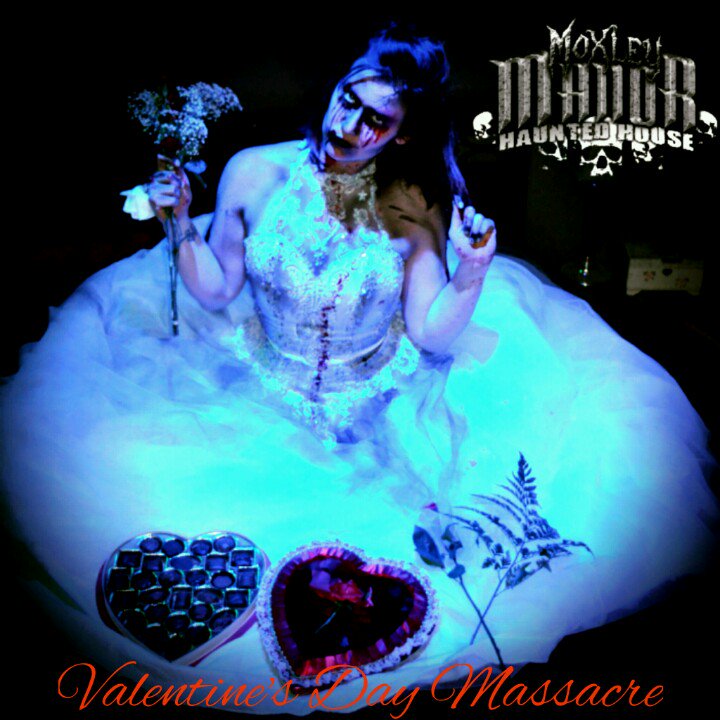 Scream Hollow – February 13-14, 2016. Theme: Wicked Valentine's Weekend. Location: Smithville, TX
13th Floor Haunted House – San Antonio – February 12-13, 2016. Theme: Valentine X. Location: San Antonio, TX (Note: Valentine X is also happening at the 13th Floor Haunted Houses in Chicago and Denver.)
VIRGINIA
Shocktober – February 12-14, 2016. Theme: My Bloody Valentine: Welcome to the Dollhouse. Location: Leesburg, VA