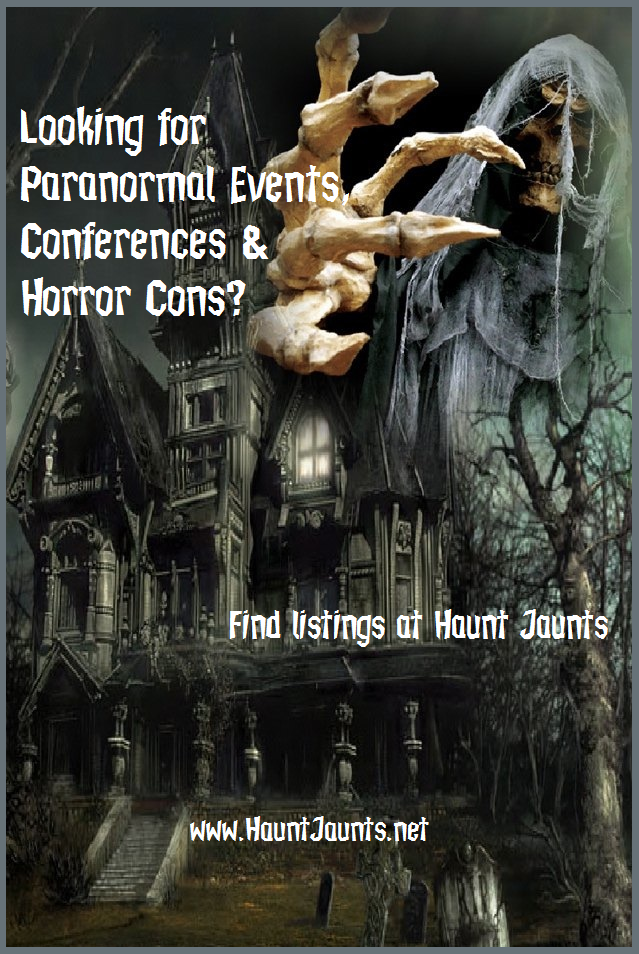 Here's where we list paranormal events and horror cons in the United States and Canada. Oh, and we don't limit the listings to just ghosts or horror. We include UFO cons, cons focused on cryptids like Mothman and Bigfoot, etc. Basically, you'll find a plethora of cons here to appeal to whatever your supernatural sensibility may be.
If you'd like to submit an event or schedule us for an appearance, scroll down. Info on how to do both appears below.
JANUARY
 FEBRUARY
---
MARCH
---
APRIL
---
MAY
---
JUNE
---
JULY
---
AUGUST
---
SEPTEMBER
---
OCTOBER
---
NOVEMBER
---
DECEMBER
---
SUBMIT YOUR EVENT/SCHEDULE US FOR AN APPEARANCE
If you have an event you'd like added to the list, or would like to have us at your event, as a guest on a radio show, etc., we would be happy to post your event or attend it, schedule permitting. Feel free to contact us in one of the following ways:
Send an email to admin@hauntjaunts.net with "Paranormal Events" or "Appearance Request" in the subject line, or use the contact form below.
PARANORMAL EVENT/SCHEDULE AN APPEARANCE SUBMISSION FORM