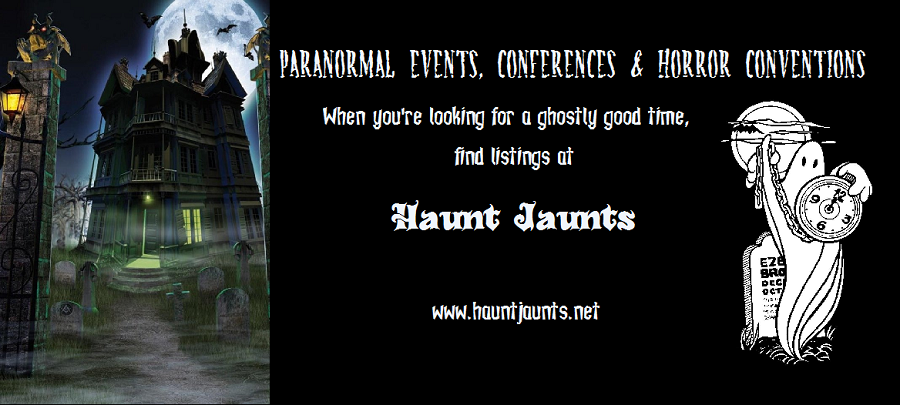 Below you'll find listings of any paranormal events or appearances Haunt Jaunts has scheduled, as well as a listing of other upcoming paranormal events and horror cons we've come across. Links are included where applicable. Sometimes they lead to other websites, sometimes to Facebook Event pages.
Speaking of Facebook, a FANTASTIC group that was specifically created for paranormal events is Paranormal Event's page ~~paranormal events from around the USA only. It's very active and loaded with event organizers and fans promoting their events. Definitely one to "like" if you're into paranormal events.
If you'd like to submit an event or schedule us for an appearance, scroll down. Info on how to do both appears at the end of this page.
HAUNT JAUNTS APPEARANCES
Haunt Jaunts currently has no appearances scheduled.

PARANORMAL EVENTS, CONFERENCES & HORROR CONVENTIONS BY MONTH
NOVEMBER 2013
November 1-3: Walker Stalker Convention – This one is for fans of zombies, particularly the Walking Dead.
LOCATION: Atlanta, GA
November 2:- Chip Coffey Psychic Dinner and Gallery Reading – Presented by Ghost Hunt Weekends. Enjoy a dinner in this haunted hotel where psychic medium Chip Coffey will conduct a gallery reading. There will also be a mini-ghost hunt.
LOCATION: Red Boiling Springs, TN
November 8: Ghost Hunt Weekend at the Thomas House – Ever wanted to stay the night in a Haunted Hotel? Here is your chance to join the Ghost Hunt Weekends team at the notoriously haunted Thomas House Hotel. Your host, Paranormal Researcher and Author Chad Morin along with the GHW Team will serve as your guides for what could be the most terrifying experience of your life. This event includes your lodging, meals, fully guided tours of the property, ghost hunting training by GHW and a full night of ghost hunting!
HJ NOTE: As of 10/4, rooms for this event may already be sold out. Please be sure to double check that when booking.
LOCATION: Red Boiling Springs, TN
November 16: Ohio Paranormal Gathering – The Ohio Paranormal Gathering is a gathering of paranormal teams and enthusiasts to share and discuss their research throughout Ohio and other states. Teams have the opportunity to set up a table display – those teams interested need to express interest before coming to make sure there are enough tables. The event is open to the public and we ask that minor children without prior authorization not attend – those with children please note this is a park with lots of outdoor entertainment for children.
LOCATION: Suffield, OH
November 23: "Reaching Through Time" Tour – Join  Christopher DiCesare and John Tobin as they Reach Through Time with an intimate presentation of their true tales of very different extreme hauntings.
LOCATION: Saugerties, NY
FEBRUARY 2014

February 1: Ghost Hunting Savannah – It's an evening you won't want to miss! Investigate three of Savannah's most haunted buildings with some of ghost hunting's most popular celebrities. The Sorrel-Weed House and Moon River Brewing have enjoyed their share of paranormal investigating visitors, but now, for the first time, the Pirates' House opens its doors for you to experience the unearthly occupants that make it one of the most haunted buildings in the city. As part of this package you will receive a ticket for an Historic All-Day Unlimited On/Off Tour with Old Savannah Tours, a buffet dinner at the Pirates' House, free shuttle from your Historic District hotel to and from the event, and all the ghostly activity you could ask for (transportation is NOT provided for hotels outside of the Historic District).
LOCATION: Savannah, GA
February 7: Ports of Apparitions Cruise – A nine-night adventure, including a seven-night cruise to the Western Caribbean. Departure port is New Orleans. (We took a cruise similar to this in 2010. We did search for haunted Mayan ruins too but didn't find any. But we had a big time in the Big Easy thanks to the ghost tour my ancestors gave me.)
February 21-23: Mysticon – The original MystiCon, which took place over July 4th weekend in 1980 was considered a big party by most, but has recently been revived to take place in our favorite Roanoke, VA location, the Tanglewood Holiday Inn. The location and time of year that MystiCon takes place is one that fans, family and friends alike have come to rely on for an awesome weekend of SciFi, Fantasy and Pop Culture.
This convention was resurrected in 2010 by a collection of cool zany and passionate people that wanted to keep the family-friendly traditions of open gaming, enjoyment of different literature, arts, imaginations and camaraderie any Con-goer will surely enjoy!
LOCATION: Roanoke, VA
APRIL 2014
April 5: Para-History Festival – A one of a kind experience into all things historical and paranormal, from Beyond Ghosts the originators of "Para-history," welcome to Para-history Festival at the haunted and historic Fort Niagara!
LOCATION: Youngstown, NY
MAY 2014
May 2-3: Preserving the Haunt – Para-History Con 2 – A Glory Haunt Hound events. More details to follow soon…
LOCATION: Lake George, NY
SUBMIT YOUR EVENT/SCHEDULE US FOR AN APPEARANCE
If you have an event and would like it added to the list, or would like to have us at your event, as a guest on a radio show, etc., we would be happy to post your event or attend it, schedule permitting. Feel free to contact us in one of the following ways:
Send an email to admin@hauntjaunts.net with "Paranormal Events" or "Appearance Request" in the subject line, or
Use the contact form below.
PARANORMAL EVENT/SCHEDULE AN APPEARANCE SUBMISSION FORM