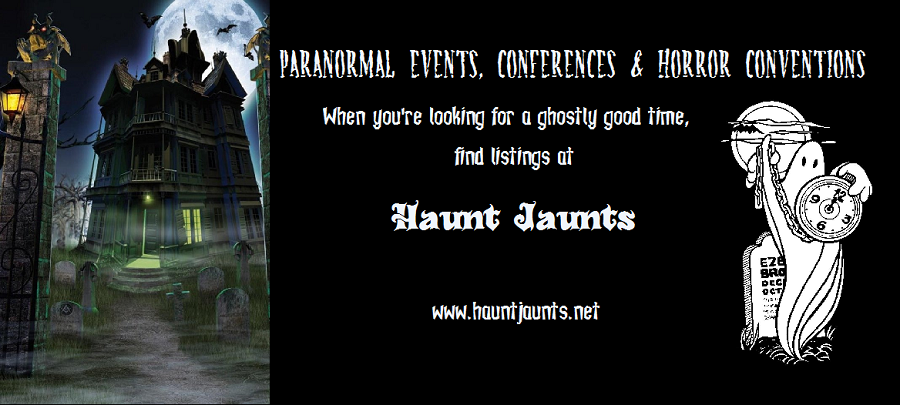 Below you'll find listings of any paranormal events or appearances Haunt Jaunts has scheduled, as well as a listing of other upcoming paranormal events and horror cons we've come across. Links are included where applicable. Sometimes they lead to other websites, sometimes to Facebook Event pages.
Speaking of Facebook, a FANTASTIC group that was specifically created for paranormal events is Paranormal Event's page ~~paranormal events from around the USA only. It's very active and loaded with event organizers and fans promoting their events. Definitely one to "like" if you're into paranormal events.
If you'd like to submit an event or schedule us for an appearance, scroll down. Info on how to do both appears at the end of this page.
HAUNT JAUNTS APPEARANCES
Haunt Jaunts currently has no appearances scheduled.

PARANORMAL EVENTS, CONFERENCES & HORROR CONVENTIONS BY MONTH
MARCH 2014

March 28-29: 22nd Annual Edgar Cayce Hometown Seminar – Best-selling authors Sidney and Nancy Kirkpatrick join the Museums of Historic Hopkinsville-Christian County to pay tribute to Hopkinsville's most famous son: Join the experts for an exciting weekend of lectures, discussions, and a guided tour of where it all began: the tobacco farm where he had the visions that prompted his life's work; Beverly School, where Cayce manifested his strange powers of mental telepathy; the church where he worshiped; the home where Cayce gave his first trance reading; and the office where he partnered with Dr. Wesley Ketchum to bring his astonishing trance readings to the world.
Climaxing this fantastic weekend will be celebrity hypnotist Doug MacCraw performing at the historic Alhambra Theater. Dare to join others on stage to see how it all began for Edgar in his own hometown.
LOCATION: Hopkinsville, KY
APRIL 2014
April 5: Para-History Festival – A one of a kind experience into all things historical and paranormal, from Beyond Ghosts the originators of "Para-history," welcome to Para-history Festival at the haunted and historic Fort Niagara!
LOCATION: Youngstown, NY
April 19: ParaCon at the Boxwood Inn – Speakers and special guests include: Pat Bussard – author and photographer, Pamela Kinney – author and actress, J. Michael Moore – author and historian, the members of Twisted Paranormal Society, the members of All Seeing Paranormal Society, and more!
LOCATION: Newport News, VA
April 26: Paranormal for Paws Expo – Annual charity fundraiser. This event is organized by The Massachusetts Paranormal Research Group and all proceeds from this event will go to two selected no-kill shelters – Sterling Shelter and Peace Ridge Sanctuary.
Admission is $10 or $5 with the donation of an item from the "Wish List". The 'Wish List items can be found www.paranormalforpaws.com.
This is a pet friendly facility so you can bring your dogs! Dogs must be well behaved in a social, indoor setting, ok with other
LOCATION: Franklin, MA
April 26: 2nd Annual Tyler Paranormal Conference – This year's event is scheduled for April 26th at the Tyler Civic Theater and we have several well respected guests attending such as Bigfoot Hunter Ken Gerhard, Deep South Paranormal from the SyFy channel, and Dr. Rita Louise to name a few.
LOCATION: Tyler, TX
MAY 2014
May 2-3: Para-History Con 2: Preserving the Haunt - "Preserving the Haunt!" Para-History Con educates about history while sharing a location's paranormal undercurrent.
These annual events will feature today's favorite celebrities who will be available throughout the entire weekend:
- for the VIP Party Friday night;
- throughout the entire Para-History Convention which will display your favorite vendors all day Saturday…and of course for
- the Celebrity Hosted Ghost Hunt Saturday night.
LOCATION: Lake George, NY
AUGUST 2014
August 15-17: 2nd Annual IPRG Ghost Conference – The Conference will take place at the historical Luganbeel US Army Reserve Center and will include lectures, raffles, and great conversation.
LOCATION: Boise, ID
SUBMIT YOUR EVENT/SCHEDULE US FOR AN APPEARANCE
If you have an event and would like it added to the list, or would like to have us at your event, as a guest on a radio show, etc., we would be happy to post your event or attend it, schedule permitting. Feel free to contact us in one of the following ways:
Send an email to admin@hauntjaunts.net with "Paranormal Events" or "Appearance Request" in the subject line, or
Use the contact form below.
PARANORMAL EVENT/SCHEDULE AN APPEARANCE SUBMISSION FORM