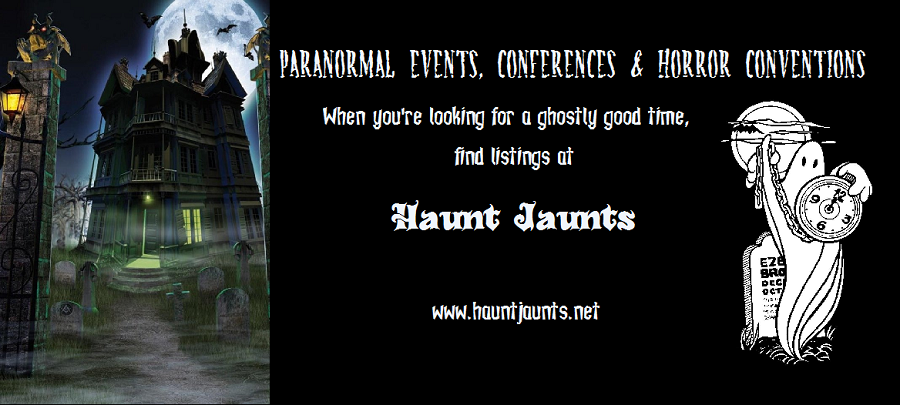 Below you'll find listings of any paranormal events or appearances Haunt Jaunts has scheduled, as well as a listing of other upcoming paranormal events and horror cons we've come across. Links are included where applicable. Sometimes they lead to other websites, sometimes to Facebook Event pages.
Speaking of Facebook, a FANTASTIC group that was specifically created for paranormal events is Paranormal Event's page ~~paranormal events from around the USA only. It's very active and loaded with event organizers and fans promoting their events. Definitely one to "like" if you're into paranormal events.
If you'd like to submit an event or schedule us for an appearance, scroll down. Info on how to do both appears at the end of this page.
HAUNT JAUNTS APPEARANCES
Haunt Jaunts currently has no appearances scheduled.

PARANORMAL EVENTS, CONFERENCES & HORROR CONVENTIONS BY MONTH
APRIL 2014
April 19: ParaCon at the Boxwood Inn – Speakers and special guests include: Pat Bussard – author and photographer, Pamela Kinney – author and actress, J. Michael Moore – author and historian, the members of Twisted Paranormal Society, the members of All Seeing Paranormal Society, and more!
LOCATION: Newport News, VA
April 26: Paranormal for Paws Expo – Annual charity fundraiser. This event is organized by The Massachusetts Paranormal Research Group and all proceeds from this event will go to two selected no-kill shelters – Sterling Shelter and Peace Ridge Sanctuary.
Admission is $10 or $5 with the donation of an item from the "Wish List". The 'Wish List items can be found www.paranormalforpaws.com.
This is a pet friendly facility so you can bring your dogs! Dogs must be well behaved in a social, indoor setting, ok with other
LOCATION: Franklin, MA
April 26: 2nd Annual Tyler Paranormal Conference – This year's event is scheduled for April 26th at the Tyler Civic Theater and we have several well respected guests attending such as Bigfoot Hunter Ken Gerhard, Deep South Paranormal from the SyFy channel, and Dr. Rita Louise to name a few.
LOCATION: Tyler, TX
MAY 2014
May 2-3: Para-History Con 2: Preserving the Haunt - "Preserving the Haunt!" Para-History Con educates about history while sharing a location's paranormal undercurrent.
These annual events will feature today's favorite celebrities who will be available throughout the entire weekend:
- for the VIP Party Friday night;
- throughout the entire Para-History Convention which will display your favorite vendors all day Saturday…and of course for
- the Celebrity Hosted Ghost Hunt Saturday night.
LOCATION: Lake George, NY
May 17: Third Annual Granbury Paranormal Expo – Held at the Granbury Resort Conference Center. $5 at the door. Special guest speaker Dean Haglund of television's "The X-Files" and "The Lone Gunmen."
LOCATION: Granbury, TX
JUNE 2014
June 7: Investigate the Missouri State Penitentiary with the R.I.P. Hunters – From their MeetUp page:
We have been to some truly awesome investigations but the Missouri State Penitentiary is the Holy Grail of paranormal investigation locations. We will be also inviting our other teams around the country to this special event so sign up soon so you can insure your spot for this great event. We will only have 40 spots available so time is critical. You will be investigating with the cast of the R.I.P. Hunters Paranormal TV Show and they are the best at what they do. This place has been called The Bloodiest 47 Acres in the Country for many reasons. Here are just a few bits of history from this location. When you have a few minutes research this place and you will be amazed.
LOCATION: Jefferson City, MO
JULY 2014
July 3: B-Dub Benefit Ghost Hunt at the Ohio State Reformatory – Ghost Hunt to benefit the needs of a friend B-Dub (aka Brian K Wilson Sr.) who was recently diagnosed with Stage 4 Lung Cancer.  All proceeds go to Brian K. Wilson Sr. to help him pay for his medical expenses.
LOCATION: Mansfield, OH

AUGUST 2014
August 2: Investigate the Dauphine Orleans Hotel with the R.I.P. Hunters – From their MeetUp page:
Come and investigate the Haunted Dauphine Hotel with the cast from the R.I.P. Hunters Paranormal TV Show. Also the Louie Armstrong (Satchmo Music Festival) will be going on all week with bands playing all over the French Quarter. Ghost sightings and hauntings are nothing new to New Orleans and the French Quarter, an area known for historic sites and centuries-old buildings, some dating back to 1718 when the city was founded. What many people might not know is that some of the original residents and visitors of historic New Orleans never left town. After all, New Orleans is said to be one of the most haunted cities in America.
LOCATION: New Orleans, LA
August 15-17: 2nd Annual IPRG Ghost Conference – The Conference will take place at the historical Luganbeel US Army Reserve Center and will include lectures, raffles, and great conversation.
LOCATION: Boise, ID
SUBMIT YOUR EVENT/SCHEDULE US FOR AN APPEARANCE
If you have an event and would like it added to the list, or would like to have us at your event, as a guest on a radio show, etc., we would be happy to post your event or attend it, schedule permitting. Feel free to contact us in one of the following ways:
Send an email to admin@hauntjaunts.net with "Paranormal Events" or "Appearance Request" in the subject line, or
Use the contact form below.
PARANORMAL EVENT/SCHEDULE AN APPEARANCE SUBMISSION FORM