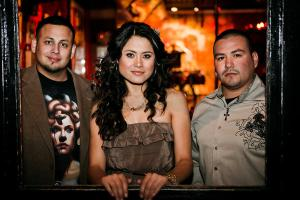 A couple of weeks back, I got an email from a representative of mun2.tv. Unfortunately it came during my hack attack/web hosting change. (A debacle I'm still trying to recover from.)
Anyway, the rep, Kristina, was writing to inform me about a new show called From Beyond.
Armed with paranormal detectors and electronic devices, the "From Beyond" team leads viewers into the homes of Latino families and other locations that are experiencing paranormal activity. Through personal interviews and chilling tales, real peoples' true stories are being uncovered.
I finally had a chance to check it out. The team consists of Christian, the investigator; A.J., the medium; and Ramiro, paranormal investigator. It's yes, groan, another ghost hunting show like Ghost Hunters or Ghost Adventures, but I happened to like it. It's both something familiar (people investigating allegedly haunted places), yet something new (mainly the faces and personalities –they're fresh and intriguing).
From Beyond might not appeal to everyone, though. There's a lot of Spanish, as in the speaking of it, but mun2 is bilingual friendly for those of us who don't habla espanol. Subtitles aren't spared.
I've been semi-trying to learn Spanish because my husband is going to move us one day. He wants to live south of the border somewhere, anywhere, very badly. I figure I'm not getting any younger. I better start figuring out the language ASAP. Looks like it's going to become my second one eventually.
From Beyond kind of gives me a fun way to listen to people speaking it while watching something I'm interested in anyway. Not only that, the show offers a taste of a different culture and its perception of ghosts and hauntings. As Kristina wrote in her email:
"There is a deep respect for and belief in the supernatural world and it has become a part of the Latin American culture, passed down generation to generation."
The first episode aired Sunday July 31 at 10 p.m./9 C. You can watch new episodes Sundays on your TV via these providers and channels:
DirecTV MAS channel 410
Dish Classic Gold 250
Dish Latino channel 838
I don't have DirecTV or Dish, but I was able to watch online. mun2 puts full episodes online after they air. As of this writing there are three of them. I shared some links to the From Beyond online viewing below. I also found a From Beyond trailer on YouTube, which is included below as well.
Have you seen From Beyond? What do you think?
SOME FROM BEYOND EPISODES AND EXTRAS