Okay, I'm very jealous of kids today. All I had were Barbies. Which I loved dearly. I'm not ashamed to admit I played with my Barbies until I was 12.
I never was into baby dolls, but my Barbie dolls were an instrumental outlet for my imagination. Many times I'd act out the storylines of my stories before putting them to paper. (Or trying to put them to paper. I was good about starting them and not quite finishing.)
Anyway, I'm all grown up now and don't have kids of my own, so maybe these Monster High dolls have been out for a while now. I happened to stumble across them on Amazon when I was searching for something else. My inner little girl squealed with delight when she saw them. Oh, the fun I could've had if these dolls had been around in my doll playing days!
Sigh.
Since I'm too old to play with dolls now, humor me while I virtually compile a Monster High doll collection here.
And of course you can't have dolls without neato accessories, like change of outfits and furniture and such. I included some of those as well.
Monster High Draculaura Doll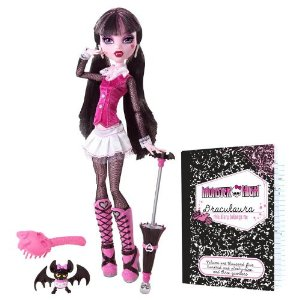 Monster High Clawdeen Wolf Doll
(I dig her ears!)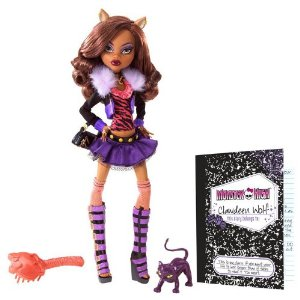 Monster High Ghoulia Yelps Doll with Pet Owl Sir Hoots A Lot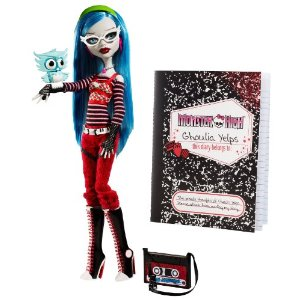 Monster High Lagoona Blue Doll and Neptuna Pet Piranha
Monster High Frankie Stein Doll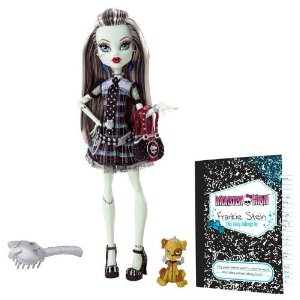 Monster High Holt Hyde with Pet chameleon Crossfade
(He reminds me of a cross between Michael Jackson and Hellboy for some reason. And gives new meaning to the expression, "He's a hottie.")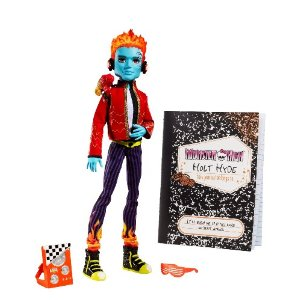 Monster High Cleo De Nile and Deuce Gorgon Giftset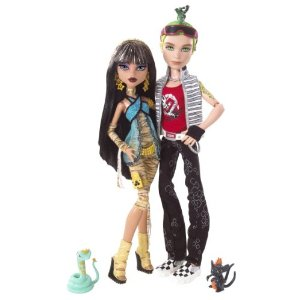 Monster High Draculaura And Clawd Wolf Doll Giftset
(My inner little girl already sees drama brewing. Clawd should be with Clawdeen, not Draculaura! WTH?)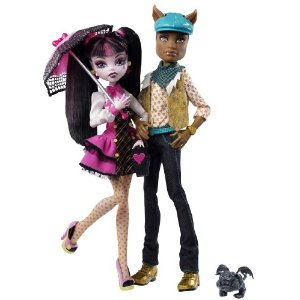 Monster High School Spirit Scream Uniforms Lagoona Blue Doll
(OMG! The bite mark in the surfboard is hilarious!)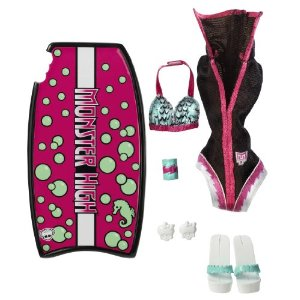 Monster High Day at the Maul Fashions Giftset
("Maul" Such a clever usage!)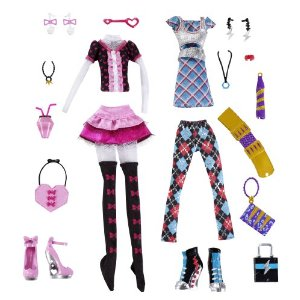 Monster High Frankie Stein Mirror Bed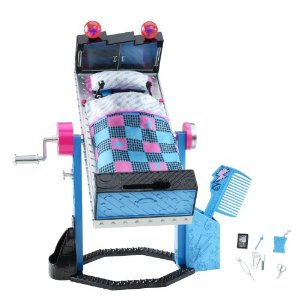 Monster High Draculaura Jewelry Box Coffin
(I'm really not a girly girl and I don't have much jewelry, but I am in love with this little coffin jewelry box all the same. Oh the things my Monster High dolls would do it in it, too. Yep, my Barbies had doll sex and lots of it. All part of the drama and chaos that comprised their lives when I played with them. I bet they're glad to be retired from all my nonsense now. And I bet the Monster High dolls are relieved I'm too old to play with them and corrupt them in such a fashion!)