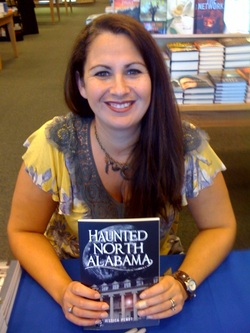 I've interviewed Jessica Penot of Ghost Stories and Haunted Places before. I wanted to interview her again, but as I just now revisited our past conversation, it dawned on me I repeated a couple of questions.
Whoops.
Well, Jessica was very nice and obliged answering once again anyway. Luckily she had some new answers to my old questions. Enjoy!
Why the paranormal? What is it that draws you to it?
 I've always been drawn to the otherworldly. I've always loved ghost stories and haunted houses and horror stories that dip into the paranormal. I can't entirely explain why except that I've been drawn to these things since I was a child. When I was young, my favorite place in the world was our old family house. It was haunted and it groaned with strange noises at night. I loved it there. I love the history that goes with the paranormal. I love old houses and tragic stories. I guess it is these aspects of the paranormal that draw me to it more that anything else.
What was your "ah ha" moment that made you realize, "You know what? I'm going to write a book about Alabama's haunts."?
I wish I had a profound answer. It actually just fell on me. I started blogging about ghost stories and haunted places because I like the stories and a few months in an editor asked me to write the book. I said yes and the rest is history. Writing Haunted North Alabama was an adventure for me because I had never done anything like it. I felt like a journalist. I had to go out and interview people and dig for stories. It was a lot of fun.
What's your favorite ghost story?
My favorite story is the Moody Brick. I like it because it isn't well known and it is so dark. It is wrapped in a history that is uniquely Southern and is as interesting as more famous haunts like the LaLaurie mansion. The Moody Brick's story begins with cruel slave owners who torture their slaves. The slaves rose up and killed their owners and were in turn hung from the oak in front of the mansion. Of course, slaves and masters are said to haunt the old mansion to this day and their tragic ghosts are reported to make a lot of noise at night. Like the LaLaurie story, none of the facts in this tale can be completely confirmed, but the story is legend and will live on regardless of the factual basis behind it.
Which haunted place would you like to travel to that you've not yet had the opportunity to venture to?
There are a lot of big haunted places I haven't been able to go to. The largest place I really wish I had the time and money to see would be the Tower of London. It has one of the richest histories of any haunted place and there are so many stories there it would take a year to write about them all.
What's something you absolutely DO NOT travel without?
My camera. I believe a picture is worth a thousand words.
What other projects do you have in the works? Anything new coming up you care to share?
I have a couple of books coming out this fall. Haunted Chattanooga will be out on August 25th.

Amy Petulla, the owner of Haunted Chattanooga Tours, helped me write this book so it is wonderful. Chattanooga had so many ghost stories this book almost wrote itself. I also have a fiction novel, Circe, coming out in a few months. It is based on the haunted institution in Southern Alabama where I did my internship. The asylum was built into the shell of an old fort where they kept Geronimo for several years during the trail of tears. Its history is long and tragic and cried out to have a book written about it. The book should be released by Lachesis Press sometime soon. Currently, I'm working on the sequel to my novel, Death's Dream Kingdom, as well. I am actually staying quite busy and that is a good thing.
Other Books by Jessica Penot